MÁSTER

Study time: 8 weeks


Start: Immediate
MASTER OVERVIEW
The fast and online MBA that helps you understand the current luxury market, which will reach between $1.2 trillion and $1.4 trillion by 2025 and will continue to grow until 2030

The complete master's degree in the luxury business gives you a current 360º view, where you will learn the tools, concepts, and methodologies that you will start applying from day one.

MBA IN LUXURY
MANAGEMENT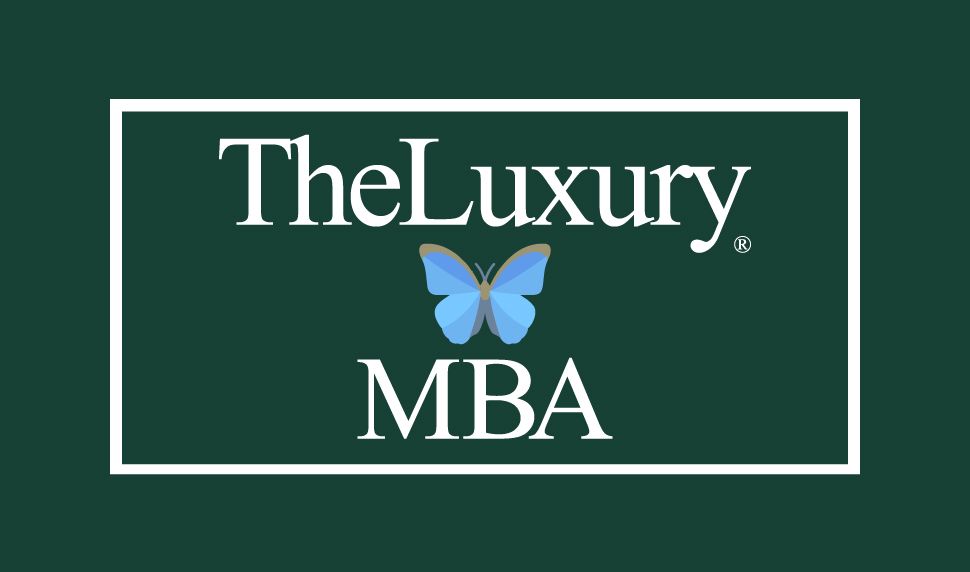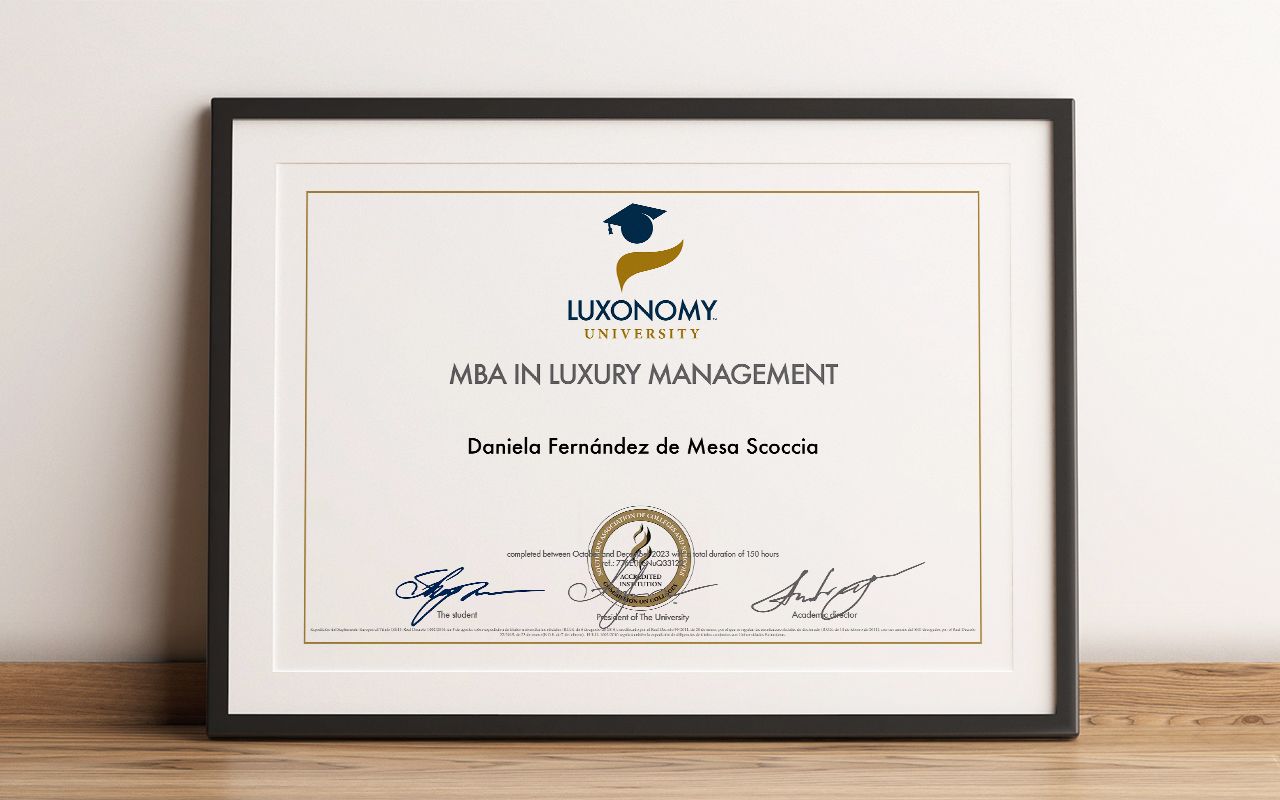 🦋TheLuxuryMBA® is aimed at these professional profiles:
Individuals with backgrounds in areas such as Business Administration and Management, Marketing, Communication, Design, Fashion, Tourism, Hospitality Management, and related fields, as well as those without a university degree but with work experience or interest in the luxury industry, and who wish to acquire specialized knowledge in the sector and its focus on sustainability, digitalization, and innovation.

Professionals already working in the luxury industry or related sectors who wish to expand and update their skills and knowledge to adapt to current and future trends in sustainability, digitalization, and innovation.

Entrepreneurs interested in launching projects or businesses in the luxury sector who wish to learn about sustainable strategies and practices, as well as how to use technology and innovation to improve their value proposition and achieve success in the market.

Individuals seeking to make a professional transition to the luxury industry or improve their current position in the sector, and who wish to acquire specific skills and knowledge in sustainability, digitalization, and innovation to increase their employability and career opportunities.

People who want to learn quickly, practically, and economically about the latest trends and novelties in the current luxury market, including sustainability, digitalization, and innovation, to enhance their professional skills, broaden their job prospects, or simply out of personal interest in the topic.

Designers and creatives working in the luxury industry who want to delve into sustainable practices and technological trends to improve their skills and increase innovation in their projects.

Managers and executives of luxury companies or related sectors who are seeking to acquire updated knowledge on sustainability, digitalization, and innovation, to lead and guide their teams in the adoption of new practices and strategies in line with market trends.

Professionals in the sustainability and corporate social responsibility sector who wish to specialize in the luxury industry and apply their knowledge in an environment where sustainability is increasingly crucial to the long-term success of brands and companies.

Researchers and academics interested in studying the evolution of the luxury industry, with a special emphasis on sustainability, digitalization, and innovation trends, and who wish to acquire a solid and updated foundation to develop research and publications in this field.

Professionals and technicians in areas such as logistics, supply chain, and production, who work in the luxury industry or wish to do so, and want to learn about best sustainable practices and technologies, as well as efficient resource and process management in a digital environment.
This program is also suitable for anyone who has a passion for the world of luxury and is interested in learning how brands and companies can adapt and thrive in a context of growing concern for sustainability and digitalization. The training offered in this Master's degree will provide a solid foundation for facing the challenges and opportunities in the current and future luxury industry.
FACULTY
all of them active professionals from pioneering firms in the sector
ALEXANDRE ARNAULT
Grupo LVMH
Executive Vice President of Products and Communications at Tiffany
TOMÁS VILLÉN
PORSCHE
CEO Porsche Ibérica
EDOUARD D'ARBAUMONT
BREITLING
Managing Director Southern Europe Breitling
JAIME HEVIA
PALLADIUM HOTEL GROUP
Regional Cluster Director of Sales EMEA
PABLO LÓPEZ
SILBON
CEO & Co-Founder
CLEMENTE CEBRIÁN MOSQUERA
EL GANSO
Cofounder
PEDRO DOMÍNGUEZ ANGUIANO
Grupo NUBA
Corporate Managing Director
VICTORIA (VICKY) DUCOURNAU
AMAZON
Sales Lead Ads
HELENA BERMÚDEZ DE CASTRO
CHOPARD
Director of Communications and Public Relations.
BEATRIZ GIMENEZ
PAYPAL IBERIA
Managing Director
ANTÓNIO PARAÍSO
Senior luxury marketing consultant
ANDREA DE JUAN
SILBON
Chief Marketing Officer
CARLOTA RODRÍGUEZ-BENITO
EX-CHANEL
A best-selling author and creator, she has built her career at CHANEL in innovation.
CÉSAR VAL
CEVAL Consulting LLC
Expert in luxury and the Middle East, C-Suite advisor, consultant, trainer, and international speaker. Managing Partner.
SÉBASTIEN SANTOS
EX-LVMH
Luxury Expert Consultant
CARMEN SÁENZ VARONA
BEST FOR LESS
Founder & CEO. Formerly of Cartier and Audemars Piguet.
MÓNICA SAN JOSÉ ROCA
EX- VICE-PRESIDENT SALES EMEA KONTOOR BRANDS, EX- LEVIS, EX- VF CORP.
Fashion Industry Strategist and International Sales Leader Omnichannel Distribution Expert
DR. SHEETAL JAIN
Luxe Analytics
Fundadora y CEO de Luxe Analytics, consultoría en Lujo líder en India
LOLA LÓPEZ
EX-TENDAM, EL CORTE INGLÉS Y EL GANSO
14 years in the Fashion Industry at Tendam, El Corte Inglés, and El Ganso.
EMILIO LUJÁN
MODDO
Managing Director
UN Master OFICIAL
sobre el mercado del Lujo actual, que alcanzará entre $ 1.2 billones y $ 1.4 billones para 2025 y continuará creciendo hasta 2030.
✔️75h de clase
✔️Todos los materiales descargables
✔️Bolsa de Empleo
✔️Comienzo 18 septiembre simultáneamente en 52 países
✔️Networking continuo con profesorado y alumnos de todo el Mundo
✔️A tu ritmo
✔️Sesiones en directo con expertos en activo de las firmas más importantes del Lujo que quedan grabadas si no puedes asistir
🦋ENFOQUE TheLuxuryMBA®
ORIENTACIÓN GLOBAL
🦋TheLuxuryMBA® está diseñado para capacitar a los alumnos en la comprensión, análisis y gestión de marcas de lujo actual.

Este MASTER ofrece desde un enfoque integral en la industria del lujo, abarcando desde la historia y la cultura del lujo hasta la estrategia de marketing, la innovación y la sostenibilidad.

El MASTER combina teoría y práctica, con el objetivo de formar a los mejores profesionales de la industria del lujo del Siglo XXI en un entorno globalizado y altamente competitivo y tecnológico.
🦋TheLuxuryMBA®
SALIDAS PROFESIONALES
Este Máster en Dirección de Empresas de Lujo
proporciona
a los estudiantes las
herramientas
y habilidades necesarias para comprender y gestionar las peculiaridades de las
marcas y empresas que operan en el sector del lujo
.
SALIDAS PROFESIONALES
Director de Marca de Lujo: Responsable de la estrategia global de la marca y de su posicionamiento en el mercado.
Gestor de Producto de Lujo: Se centra en la estrategia, desarrollo, producción y marketing de un producto específico o línea de productos dentro de una marca de lujo.
Director de Marketing y Comunicación: Encargado de definir y ejecutar estrategias de marketing, publicidad y relaciones públicas para marcas de lujo.
Gestor de Eventos de Lujo: Organización y producción de eventos exclusivos para marcas de lujo, como lanzamientos de productos, desfiles de moda o eventos VIP.
Director de Ventas o Comercial: Gestiona los equipos de ventas y establece estrategias para alcanzar los objetivos de venta en tiendas físicas o canales online.
Gestor de Tienda o Boutique de Lujo: Encargado de la dirección, gestión y rendimiento de un punto de venta físico de una marca de lujo.
E-commerce Manager: Especializado en la gestión y estrategia de venta online de productos de lujo.
Relaciones Públicas: Encargado de mantener y mejorar la imagen pública de una marca de lujo y de establecer relaciones con medios, influencers y otros stakeholders.
Director de Operaciones: Supervisa la cadena de suministro, producción y distribución de productos de lujo.
Responsable de Sostenibilidad: Con el enfoque creciente en sostenibilidad, muchas marcas de lujo están buscando profesionales que puedan ayudarles a adoptar prácticas más sostenibles sin comprometer la calidad o el lujo del producto.
Consultor especializado en lujo: Ayuda a las empresas a desarrollar estrategias específicas para el mercado del lujo, basadas en su profundo conocimiento del sector.

Estas salidas profesionales pueden encontrarse en diversos sectores dentro de la industria del lujo, como moda y accesorios, joyería y relojería, automóviles y transporte, viajes y hospitalidad, gastronomía y vinos, entre otros. Además, los titulados podrán trabajar tanto en empresas ya consolidadas como en startups y proyectos emprendedores relacionados con el lujo sostenible y digital.
BOLSA DE EMPLEO
Bienvenido a la Bolsa de Empleo de LUXONOMY UNIVERSITY. Este espacio ha sido creado con el objetivo de conectar a nuestros graduados con las principales empresas y marcas de lujo a nivel mundial.

Si estás listo para dar el siguiente paso en tu carrera en el sector del lujo, estás en el lugar adecuado.¿Qué ofrecemos?

Ofertas Exclusivas: Acceso a ofertas de trabajo exclusivas en empresas de lujo, disponibles solo para nuestros graduados.
Networking: Oportunidad de conectarte con profesionales líderes en la industria, tanto a nivel nacional como internacional.
Actualización Constante: Nuestra bolsa de empleo se actualiza regularmente con nuevas oportunidades en el mundo del lujo.
Asesoramiento Profesional: Disponemos de expertos que te guiarán y asesorarán en tu búsqueda de empleo, desde cómo mejorar tu CV hasta prepararte para entrevistas en empresas de alto prestigio.
Go mobile
PUEDES DESCARGARTE
LA APLICACIÓN MÓVIL
DE LUXONOMY UNIVERSITY*
Realiza tu formación directamente desde el móvil o tablet y mantén tu plan de estudios realmente anytime-anywhere, incluso sin conexión a Internet. Puedes descargarte los vídeos y temarios completos.
*DISPONIBLE A PARTIR DE ENERO DE 2024
CONSIGUE TUS OBJETIVOS
EN EL MAYOR ECOSISTEMA MUNDIAL DEL LUJO
RED PRIVADA ALUMNI
NETWORKING ONLINE Y PRESENCIAL

Contacta con
profesionales de todo el Mundo
. En el mundo del lujo, donde las
relaciones y conexiones
pueden marcar la diferencia, ofrecemos a
nuestros estudiantes oportunidades únicas para expandir su red de contactos
, tanto en la
plataforma digital de la Comunidad Alumni
como en encuentros presenciales.
Plataforma Exclusiva: Contamos con un portal online exclusivo para estudiantes y graduados, donde se pueden conectar, compartir experiencias y acceder a conferencias y seminarios virtuales con líderes de la industria.
Webinars y Charlas: Organizamos regularmente charlas en línea con expertos en el sector del lujo, permitiendo a los estudiantes adentrarse en las tendencias actuales y futuras, y hacer preguntas en tiempo real.
Foros de Discusión: Estos espacios online están diseñados para fomentar el debate, la colaboración y el intercambio de ideas entre estudiantes, alumni y profesionales del lujo.
TheLuxuryMBA is a specialised MBA focused on the luxury industry. It is an official and swift online MBA that aids in gaining access and staying updated in the current luxury market, which is expected to reach between $1.2 trillion and $1.4 trillion by 2025 and will continue to grow until 2030. This comprehensive Master's programme provides a 360º and contemporary view of the luxury business, teaching tools, concepts, and methodologies that students will start applying from day one.
This MBA allows individuals to pursue the qualification without investing thousands of euros, going into debt, leaving their jobs, or putting their lives on hold for years. The program seems designed to offer flexibility and accessibility, focusing on the applicability of learnt skills in the real world, within the contemporary and fast-paced luxury market.
Who has created 🦋THELUXURYMBA®?
🦋TheLuxuryMBA® has been created by LUXONOMY UNIVERSITY, the First International Online University of Fashion and Luxury. It offers Courses, Degrees, and Masters that are adapted to the 21st Century. LUXONOMY UNIVERSITY is an accredited university in the United States by the Southern Association of Colleges and Schools Commission on Colleges (SACSCOC).
We have a Faculty composed of professors coming from the best companies in the world. Some of the successful figures you will encounter within 🦋TheLuxuryMBA® are executives from LVMH, Chanel, Cartier, Kering, Porsche, Amazon, Lexus, from all the most important brands in the luxury sector.
Why was 🦋THELUXURYMBA® created?
The luxury sector is reinventing itself like no other sector, with ECO-ON-IN, meaning: SUSTAINABILITY, DIGITAL, and INNOVATION are the foundations of current luxury. The objective is to prepare the student for the enormous transition of the sector, which is eager for well-prepared professionals.
Is 🦋THELUXURYMBA® an accredited Master's programme?
Yes, since August of 2023, 🦋TheLuxuryMBA® is accredited by LUXONOMY UNIVERSITY. LUXONOMY UNIVERSITY is proud to be a recognised and accredited institution by the Southern Association of Colleges and Schools Commission on Colleges (SACSCOC) in the United States.
This accreditation is a testament to our steadfast commitment to academic excellence and educational quality. To maintain this prestigious accreditation, LUXONOMY UNIVERSITY adheres to rigorous quality standards, which range from the relevance and up-to-date nature of our study programmes to the continuous training of our teaching staff.
SACSCOC not only guarantees that we provide top-tier education, but it also reaffirms our commitment to continuous improvement, innovation, and excellence in all aspects of the university experience.
By choosing LUXONOMY UNIVERSITY, students can be assured that they are investing in an education that meets the highest international quality standards and will be recognised and valued worldwide.
What is the academic model?
LUXONOMY UNIVERSITY, being a 100% online University, is designed with the flexibility and convenience of its students in mind.
We understand that every individual has different commitments, responsibilities, and life rhythms; therefore, we offer a schedule structure that adapts to the needs of each student.
Advantages of our Flexible Scheduling:
Study at Your Pace: Students have the freedom to access content and study materials at any time, allowing them to learn at their own pace and according to their available time.
Compatibility with Professional and Personal Commitments: Not being tied to fixed schedules, students can easily balance their studies with work, family, and other commitments.
Global Access: Being an online university, LUXONOMY UNIVERSITY is available to students from all around the world, regardless of their time zone.
Reduction of Stress: By being able to plan their own schedule, students can avoid the stress and pressure of traditional schedules, often resulting in more effective learning.
Time and Resource Saving: Without the need to travel to a physical campus, students save time and money on transportation, and can invest these resources in their personal and professional development.
At LUXONOMY UNIVERSITY, we believe that education should adapt to the student and not the other way around. Our proposition of flexible schedules not only facilitates access to quality education but also supports the well-being and balance between the personal and academic life of our students. Join an educational experience adapted to the 21st century!
What is the methodology of 🦋TheLuxuryMBA®?
🦋TheLuxuryMBA® has created a wholly disruptive method that combines the best of online learning with an incredible community of over 10,000 students and annual networking events, with 15-minute classes that you can watch wherever and whenever you want. Our training adapts to people's lives, not the other way around.
All the learning is focused on you becoming a true expert in Luxury 3.0, as it is formed by absolutely up-to-date content and hand in hand with the leading figures of the companies that are changing the world of Luxury (LVMH, Porsche, Chanel, Amazon, …), so that you can apply the knowledge you are acquiring from the first day.
Who is 🦋TheLuxuryMBA® aimed at?
🦋TheLuxuryMBA® strikes the balance of being able to help both junior profiles who do not yet have work experience, as well as professionals who already have extensive experience in their sector but need to update their skills.
What is the methodology of 🦋TheLuxuryMBA®?
Our methodology combines all the training in downloadable PDF format, with which you can learn at your own pace from any device and location, with real-time webinars with our teachers, where you will have the opportunity to develop knowledge, clarify doubts, generate debates, and share the experience in real time with them and with other participants.
If you cannot attend any of the webinars, they are recorded. You set your own time and pace.
How long does 🦋THELUXURYMBA® last?
It is designed to be completed in 2 months (75 hours of class), but you can do it at your own pace up to 4 months (3 months with a tutor). The Degree has a Certification in hours of 150 hours.
What is the assessment system?
To ensure that you have understood and delved into the concepts explained in the classes and webinars, at the end of each module you will need to complete a test. This will serve as a formative tool to internalise the concepts you have learned.
Is there a support site to resolve my doubts?
Certainly, on one hand, you have real-time webinars, which are live sessions where you can develop your knowledge, clarify doubts, generate debates, and share experiences with your peers. These will be repeated, at least, once every two months and we will save them in case you miss any. In addition, you can always contact our experts through various channels, such as the forum, or email.
What are the requirements to obtain the 🦋TheLuxuryMBA® certification?
At the end of each of the modules, you will have to take a test. To obtain the certification, it is essential that you complete and pass 100% of the tests.
But do not worry if you do not pass the tests the first time, you will have as many opportunities as you need to try again until you pass them.
Do you have a Job Placement Service?
Of course, but, as you would expect, at 🦋TheLuxuryMBA® we have reinvented the way of finding work. Now, work finds you.
We realised that traditional job boards don't work. That's why we have implemented a UNIQUE application process for candidates based on Big Data and Artificial Intelligence. This allows us to analyse and understand you from a 360-degree perspective, and thus propose positions that match your profile. We have established connections and relationships with the best companies in the world that trust us to send them their vacancies and provide them with qualified and pre-filtered candidates for the position. Companies such as LVMH, Kering, and Richemont, among many others.
How much does 🦋TheLuxuryMBA® cost?
🦋TheLuxuryMBA® costs 1.550€.
How can I pay for 🦋TheLuxuryMBA®?
By credit or debit card
By direct bank transfer
What is our refund policy?
You will have a 15-day guarantee period from the start of the programme to receive a full refund of the amount of the programme you have purchased, as long as you have not completed more than 15% of the total educational content of that programme.
¿ALGUNA OTRA DUDA?
SI TIENE ALGUNA OTRA DUDA O DESEA INSCRIBIRSE EN ESTE MÁSTER POR TRANSFERENCIA BANCARIA, CONTÁCTENOS A TRAVÉS DE ESTE FORMULARIO.
DIRECCIÓN
Brickell City Tower
80 Southwest 8th Street Brickell Bayview
Suite 2000, Miami, FL33130, United States
HORARIO
Lunes - Viernes 9.00 - 19.00
Gracias! Hemos recibido tu mensaje.
En breve comunicaremos contigo.
NETWORKING PRESENCIAL. | EVENTOS EXCLUSIVOS. | TALLERES Y SEMINARIOS. | REUNIÓN ANUAL ALUMNI.
Eventos Exclusivos: Desde desfiles de moda hasta lanzamientos de productos y conferencias, nuestros estudiantes tienen acceso a eventos de alto calibre en el mundo del lujo.
Talleres y Seminarios: Ofrecemos talleres prácticos y seminarios dirigidos por profesionales de la industria, proporcionando una inmersión profunda en temas específicos y la oportunidad de interactuar directamente con expertos.
Encuentros Alumni: Organizamos encuentros regulares con antiguos alumnos que ya se han establecido en la industria, ofreciendo una perspectiva valiosa sobre el mundo profesional del lujo y consejos sobre cómo navegarlo.
El networking, tanto online como presencial, no solo te permite ampliar tu red de contactos sino que también te ofrece una
visión más amplia y actualizada del sector del lujo
. Estas interacciones pueden ser fundamentales para tu desarrollo profesional, facilitando oportunidades de empleo, colaboraciones y crecimiento en la industria del lujo.